Mortar cartridge Multifix USF

Specification
Applications

For installation in cracked concrete (option 1) and non-cracked concrete (option 7) (ETA-16/0107)
For installation in masonry (ETA-16/0089)
Approved for anchor rods M8, M10, M12, M16, M20, M24

Notice

Please observe the corresponding approvals during planning and processing.

The storage temperature must not permanently exceed 25 °C! Please store upright!

Properties

Vinyl resin, styrene-free

Benefits

Processing with common applicator gun possible
Can be used in wet concrete and water-filled drill holes
Delivery including mixing nozzle
Orderidentifier

Article Number

Contents ml

Composite mortar

Amount mixing nozzle

Unit

Multifix USF 280 ml

9571000280
280.0
Vinylester, styrene free
2
1

Specifications

Contents

280.0

Composite mortar

Vinylester, styrene free

Amount mixing nozzle

2

Orderidentifier

Multifix USF 280 ml

Unit

1

Multifix USF 420ml

9571001420
420.0
Vinylester, styrene free
1
1

Specifications

Contents

420.0

Composite mortar

Vinylester, styrene free

Amount mixing nozzle

1

Orderidentifier

Multifix USF 420ml

Unit

1
Multifix Calculator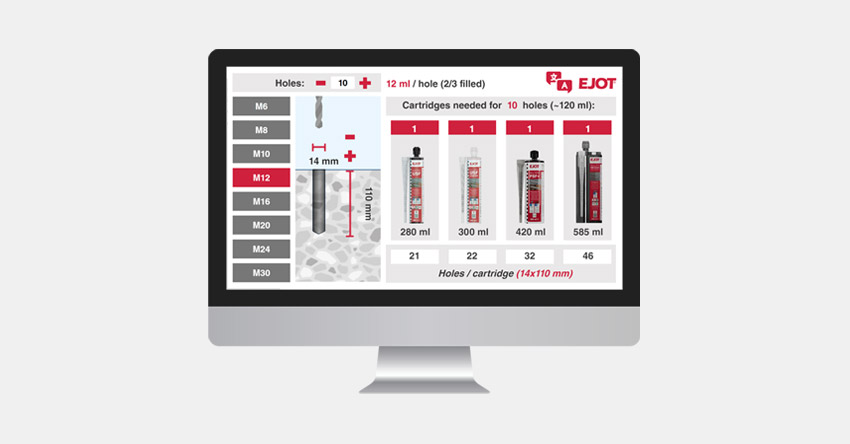 Calculate the mortar cartridges required for your project with this calculation tool. It will help you to reduce waste and make your installation more cost-effective.
Select thread diameter from the list on the far left.
Select the number of holes to fill by entering them in the text box above the illustration or alternatively use the plus and minus buttons.
Select the drilling depth using the plus and minus buttons in the illustration.
Done! The number of mortar cartridges required is now displayed.